We are the perfect place to stop in for breakfast. We always have fresh brewed coffee, donuts, an assortment of baked goods and a great Breakfast Menu that includes hot breakfast sandwiches and puffs.
Ice Scream, You Scream, We All Want Ice Cream! Seasonal and Delicious Ice in different Flavors is available. Sprinkles, Peanuts, Peanut Butter, Chocolate Chips and many more flavors are available.
We have delicious stuffed bread. Don't Forget to try Our Stuffed Bread of the Month. Broccoli & Sausage, Buffalo Chicken, Pepperoni, and many more types of Stuffed bread is available.
At Lewis Farms our homemade pies will make everyday a holiday. Our complete pie menu is coming soon. Until then stop in or give us a call to find out what we have freshly made.
About Us
The Lewis Farms country store is open 363 days a year. Our customers love it when they can come in to get everything they need in one stop.
From the late spring through the fall you can buy seasonal flowers and Vegetables.
Our bakery is open year round and the aroma of freshly baked products fill the air every day.
We craft artisan breads, savorys including stuffed breads and pot pies, and a splendid variety of sweet treats including cookies, cream puffs, eclairs, danish and donuts.
Your One Stop for Farm Fresh Produce, Flowers, Baked Goods, Ice Cream and Gifts in Southington
We have something for everyone every season.
Lewis Farms Features The Best Homemade Baked Goods
Perfect for all occasions
The Warm Weather Is Here!
Welcome to The Spring Of 2019
Lewis Farms makes it easy to find the perfect gift.
It's OK if the kids get ice cream all over their faces. We all did it at one time!
The Time To Plant Is Now!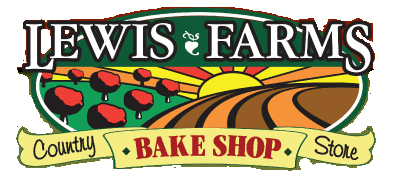 A Southington Connecticut Farm Store Open All Year Long